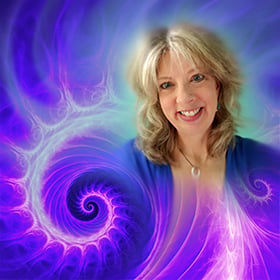 Ellie Alasantra: Light Language Artist, Intuitive Cosmic Scribe, and Healing Arts Facilitator
Ellie lives, works, and plays in Charleston, SC. Her keen interests in spirituality and the healing arts provide unique opportunities for her to help others connect to themselves on a deeper, more profound level. Her multi-layered, multi-dimensional mixed media artworks emanate healing by shared experiences in hope for a brighter and happier tomorrow for all.

Her distinctive personal style is demonstrated by the use of brightly-colored shapes and patterns, unique combinations of natural and man-made materials, and spiritual/cosmic subject matter. As the artist explains, "There is so much more to life than the physical world. I invite everyone to quiet their minds for just a moment so they might experience a glimpse of the endless possibilities that await them beyond this tangible, physical, and material world."

Alasantra earned a Bachelor of Fine Arts from the Atlanta College of Art – with honors. Her passion for art spans almost five decades. She is the recipient of various awards. She is often invited to present mixed media painting demonstrations highlighting her unique style and connection to art as a spiritual healing modality. Alasantra has been interviewed by several spiritual and creative podcast and videocast hosts.

Her art is found in many private collections in the U.S. and is on display in several spiritual healing practitioners' offices in the Charleston, SC area. She has also served on the Boards of the Charleston Artists Guild and the North Charleston Artists Guild.



ARTIST'S STATEMENT
My artistic expression is fueled by my desire to offer the viewer an opportunity to heal their emotional wounds from their past by creating healing tools in a variety of media. My subject matter is centered around the universal concept of Spirituality – connecting to the energy of one's inner core (Soul) to better understand one's purpose in this lifetime. Fulfilling one's life purpose is one of the true paths to inner happiness, peace, and harmony.

In order to accomplish that task, I am guided to choose imagery that engages one's Soul, to help others awaken the Light Being that resides within each of us. The materials I use vary greatly, depending on what I am intuitively guided to utilize. Some examples of what I've used in the past include crystals, sacred geometry, volcanic sand, Light Language symbols, and international coins.

I receive my intuitive guidance from my meditations and connecting to my inner Light and Soul. I am also offered guidance regarding my subject matter, all for the sake of helping others heal their trauma, connecting to their Souls on a deeper level, and introducing humankind to the world beyond the physical.

During my meditations, I see colors, shapes, and patterns that I incorporate as layers of my art. Some of my pieces can contain hundreds of layers and take several months to complete. I have learned not to rush my creative process for it takes as much time as it takes. This has taught me the many different meanings of the word "patience."

My creative works are filled with bright colors, uplifting images, energetic words, and textures. I find great visual interest in seeing where one layer ends and another one begins. Each time I pause to look at a piece, I always find something new that I hadn't seen before. As I am looking at the artworks and appreciating them to their absolute fullest potential, I am also healing little bits of me that need to leave my awareness so I can be the best version of myself.

In addition to creating healing art and energy tools, I also teach intuitive art classes to children and adults, and facilitate Healing Arts "Playshops" (the opposite of a workshop) where people playfully toss sponge balls dipped in paint at a friend, relative, or colleague as a way of working out the unpleasant emotions and memories that are willing to be released so they can make room for a better, happier, and more joyful tomorrow.



EXPOSURE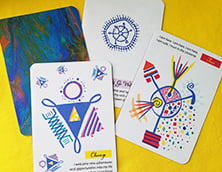 Podcast Interviews
2020 Soul Empowerment: Stepping into Your Spiritual Power… Light Codes of the Soul with Guest Ellie Alasantra (00:56:05), awaketvnetwork.live

2019 Coming Out of the Spiritual Closet Podcast: Guest Ellie Alasantra (01:07:36), Real Revolution Radio X.0

2019 Art Talk: NCAG Edition with Ellie Alasantra (00:08:27), North Charleston Artist Guild Facebook Live Event

2019 Perfectly Imperfect Podcast: Energy Healing through the Eyes of an Intuitive Energy Artist (01:06:57), Binge Networks TV

Group Exhibitions
2019 "Strength", Charleston County Public Library, Otranto location, North Charleston SC

2018 "Unity in Community", North Charleston City Hall, North Charleston SC

2017 Summerville Artists Guild Annual Members Show, Dorchester County Public Library, Summerville location, Summerville SC

Publications
2015 artGuide, Vol. 6, No. 07

Education
1988 Bachelor of Fine Arts, Atlanta College of Art, Atlanta GA
Presentations
2017 Slide Presentation and Lecture, Healing Arts Center, Mount Pleasant SC
Commissions
2016 - Present Various Private Commissions