Where Can You View/Purchase My Art?
Besides holding art classes and facilitating color and paint playshops, I also "luv-luv" creating intuitive energy tools using a variety of materials. The energy tools that I create come from the visuals that I see during my meditations (read more). I also receive channeled messages about the energy tools I am creating and I incorporate those messages into the pieces to add depth and meaning.

Here is a list of where you can see some of my latest energy pieces (prints, canvases, note cards, and pillows). More venues to come. Stay tuned!

PILLOWS HAVE ARRIVED!!
Lowcountry Whimsy, LLC (Mt Pleasant, SC)
Available: Selene Paper Prints | Heart Strong Pillows
1405 Ben Sawyer Blvd, Unit 105, Mt Pleasant, SC 29464 | 843-388-7338
Lowcountry Whimsy is a soul-inspiring gift shop and studio featuring my "Selene, Greek Goddess of the Full Moon" paper prints and my NEW and fancy "Heart Strong" PILLOWS. Be one of the first owners of this empowering pillow, reminding you that your heart is so much stronger than your thinking brain. The back side of the pillow has a "Happy Joy" Light Language Symbol on it, to emphasize positive vibes in your room. Lowcountry Whimsy is a light-filled, joyful space featuring creative treasures, spiritual gifts, and other magical items of whimsy. Sylvia and team are very happy to serve you seven days a week.
Lowcountry Whimsy on Facebook | Website

Arete (Charleston, SC)
Available: Framed Prints | Canvases
115 President Street (Suite 3, upstairs), Charleston, SC 29403 | 843-790-3202
Arete is the Greek word for 'perfection.' The implication is that you reach perfection through the fulfillment of your soul's purpose. Jason Newhauser and Aimee White are both spiritual and energy guides, and alchemists. Aimee also uses her psychic abilities to connect with angels, ancestors, and past loved ones who wish to help you find your soul's purpose in this lifetime. Offering individual and group services as well as opportunities to work with Jason and Aimee (together or separately). Be an active participant in creating your own happiness.
Arete Website

Sweet 185 Sugaring Studio and Organic Boutique (Charleston, SC)
Available: Framed Prints | Canvases | Note Cards
115 President Street, Charleston, SC 29403 | 843-329-3500
Sweet 185 has almost every piece of Chakra, Selene, and Heart Strong Energy pieces hanging in various styles (paper prints and framed canvases) inside their massage rooms, stairway, and retail spaces. There is also a very sweet display of all art printed on note cards available for you to take home. At Sweet 185, you will find delicious specialties such as body sugaring, organic facials, holistic massages, oxygen therapy, nail services, and much more. By appointment only.
Sweet 185 on Facebook | Website



Looking Back to Move Forward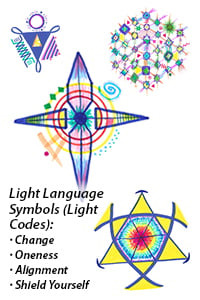 Sometimes it's good to reflect upon the happenings of years gone by. Here are some highlights of my Spiritual Awakening and Journey so you can read how my life has progressed...

2021: So far, this overall year looks promising (once we get over some forthcoming "bumps"). All 7 of the Chakra Energy Pieces continue to be reduced in price – at a savings of up to 30%. A 9"x12" paper print of any of the chakras offered is $35.00 (instead of $50.00). If you'd like, I can also add some of your unique Light Language Symbols and Cosmic Codes to your print, which will help you "bond" to your chakra energy piece even more (think of it as a boost of accelerated energy, rocketing you towards balancing your chakras and uplifting your mood). Check out the main Chakra Energy page to read more..... I am also exploring other ways to help Souls further connect to their Soul Codes, energy tools, and chakra energy pieces. I have been working on some pillow, blanket, and technology product options that are coming along quite nicely. Stay tuned for their release..... My Intuitive Art Classes continue to be on hold until socializing and closeness conditions can comfortably resume. I would like everyone to be safe and healthy while this health condition works its way through the next stage..... While some activities have slowed down a bit, some things have really picked up – mainly requests for personalized Chakra Energy pieces and people asking for their Soul Codes. Super exciting! I am tickled pink and super happy every time I receive a new order – I just can't help it!! I love adding Light Language Symbols and Cosmic Codes to personalize energy pieces and I absolutely adore creating a person's Soul Code – watching it come to life with color, messages, and guidance. Everything that I create is presented with the purpose of elevating the recipient, bringing that person's Light Language Symbols into her/his awareness, and helping that person move forward on her/his Soul's path for a more fulfilling tomorrow. This is divine timing for me to have the opportunity to do what I am doing. Every day, more people are becoming curious about life beyond this physical/3D world. They are looking for something more substantial and meaningful. I am so grateful to be able to offer these spiritual services and gifts to others. Yay!!!

2020: Just like many other Souls, 2020 showed me it was time to pause and consequently change some of the routines, activities, and events that I had been "plowing" through for the past few years (for example, the Intuitive Art Classes). For me, it was a time to go inward, pause externally, and reflect upon what my inner being (Soul) was trying to tell me. And I am sooooo glad that I did just that! I was able to focus more on sharing Soul Codes with those people who desired them. In addition, I started creating a card deck of Light Language Symbols to help people navigate the troubled waters of their heart and mind (expected completion in 2021). 2020 was the perfect year to begin such a task because everyone was in that energy to some degree so at its highest point, the concepts and words for the cards started pouring out. I created a new Chakra Energy tool highlighting all 7 major Chakra Energy pieces along with power words for each of the Chakras. It's called the "Chakra Tree". I have prints and note cards available. All of my activities in 2020 helped me to gain more insight about my Soul's path and the year also demonstrated to me just how connected all of us are to one another. Peace and blessings to you always.

2019: Clearly the Universe was showing me my next steps: it was time for me to talk more publicly about who I am and what I do. I was presented with a few requests for interviews and show-and-tells via podcasts and live video streams. The timing felt good for me and I took it as a sign for me to get back to helping uplift people by speaking more about what I do and to present the world with different ways of allowing themselves to experience the physical and emotional aspects of healing that art (and creativity) can provide. I created a new energy piece, "Heart Strong" as part of a group show with the North Charleston Artist Guild. The theme for the collaborative art show was our interpretation of the word 'Strong' so what transpired for me was the message that everyone is stronger in their hearts than in their heads. Some fun activities I participated in included a couple of local spring art shows, volunteering to paint sidewalk murals for a Daniel Island school, taking a long-distance art therapy course in Scottsdale, AZ, facilitating intuitive art classes at Bliss Spiritual Co-op in Mount Pleasant, and traveling to visit family and attend a Lee Carroll/Kyron conference in Boston. In addition, I received my first commission to create a full-sized (24"x36") super-enhanced (L2) Sacral Chakra framed canvas – super exciting!!! (P.S. The 'super enhanced' term refers to the additional Light Language Symbols, Cosmic Codes, and 3D sacred geometry shape that were added on top of the print for the new owner). Adding the 3D sacred geometry on top of the energy canvas added more energy and connected the Chakra Energy piece with the new owner and her/his Soul, making it truly unique for the new owner. Toward the end of 2019, another next step for me was discovering that I was able to download both Light Language Symbols and Soul Codes from the Cosmos for the purpose of helping others connect to their Souls (myself included). This totally blew me away!! This very timely piece of information helped me to understand a lot more about the meanings behind the codes that I paint onto the Chakra Energy pieces because it allowed me the opportunity to dive deeper into knowing more about my Soul's purpose in this lifetime. WOW!! I had no idea I was seeing and painting Light Language Symbols and Cosmic Codes.

2018: The year started off with a BANG with the completion of the Crown Chakra, "I Honor" energy piece in January. A few weeks later, I started facilitating intuitive art classes at Bliss Spiritual Co-op located in Mt. Pleasant, SC. Each month was a different theme (Paint your Angel, Mermaid, Soul Tree, Fairy, or anything). The class size was kept small (max 8) so everyone could receive individualized attention. Loads of fun! Another fun event was facilitating an outdoor playshop for members of the North Charleston Artist Guild. A great time was had by all – these artists are not afraid to sling paint around, that's for sure! During the remainder of 2018, I took a step back from creating my energy pieces and teaching Chakra Energy classes in order to spend some quality time learning intuitive art therapy and relocating closer to Charleston. Along with the move came the opportunity to downsize, which I gladly welcomed for it was time to purge, Purge, PURGE! I desired the opportunity to release many items that no longer served me so I could welcome new and exciting adventures to my life.

2017: With 6 of the 7 Chakra Energy pieces complete, 2017 was filled with efforts to continue my Spiritual Awakening. I facilitated Chakra Energy classes at some Charleston locations and I was very grateful for all of the spirited Souls who attended. My meditations continued to progress and expand in intensity as I learning how to channel Mother Mary and other energies of my Spiritual Team. All of this Spiritual learning allowed me to start the last piece in the Chakra Energy series, the Crown Chakra (purple/violet), which symbolizes our Oneness with the Universe, higher Consciousness and empowering our bodies, hearts, and Souls. Earlier in the year, I had made a goal to show my creations at a variety of shows/festivals. I succeeded and participated in over 10 shows that year, which tickled me happy!

2016: It was a very busy and energy tool-producing year! I finished 5 more Chakra Energy pieces (Solar Plexus Chakra, "I Will", Heart Chakra, "I Love", Throat Chakra, "I Speak", Root Chakra, "I Am", and Sacral Chakra, "I Feel"), found a photographer (also part magician) to produce paper and canvas reproductions of all of the Chakra Energy pieces in a few sizes. In addition, I was fortunate to start facilitating classes about the Chakra Energy series, a different Chakra Energy piece each month, held at a spiritual center in West Ashley (Charleston, SC). Turnout for these classes was beyond my wildest dreams! I was (and continue to be) very grateful and thankful for the opportunities to share my experiences about how all of the Chakra Energy pieces can help to balance your Chakras for better health and well-being.

2015: Phase II of my Spiritual/Metaphysical life began :=) In January, I made plans to quit my Corporate America job and create art full-time. As the months passed and my upcoming plans started manifesting, I became increasingly more curious about my spiritual side. I was having unexplained experiences and visions. I started listening to meditation (instrumental) music found on YouTube (one example). I attended classes and read materials focused on helping develop my spiritual side. Eventually I sampled group meditations and after some practice, I consistently began to see visions that soon turned into patterns. I saw specific colors. I received my first sacred geometry shape (Metatron's Cube or the Merkaba), which was the turning point for me to start creating the Chakra Energy series. By the end of the year, my first piece of Chakra Energy was born: the Third Eye Chakra, "I See". This Chakra is centered around your intuition, clairvoyance, clear thoughts and having a clear mind (no illusions or lies about yourself or others). After looking back on the progression of the series (they were not created in ascending or descending order), it was easy to understand why this particular Chakra was the first one to be created: It was important for me to develop my own intuition so that I could create these energy pieces from my meditations and translate them into 2D and 3D. The year was filled with so many different experiences, adventures, and opportunities for me to further develop my spiritual body and connect to my Divine Essence, my Soul.