STARLIGHT WISDOM CARDS: Navigating the New Earth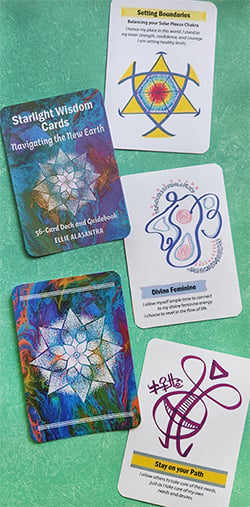 56-Card Deck and Guidebook
*** Now Available! ***
The Starlight Wisdom card deck and guidebook have been in the making for a few years and I must say this experience has been sooo worth it! They just arrived!!! They turned out so well! I am beyond excited to share these cards and guidebook with everyone. WOW!!!

Filled with Light Language symbols (light codes), cosmic symbols, affirmations, and channeled messages, these cards offer you 56 opportunities to help you awaken to a life beyond the physical and material world. Click here to order your Starlight Wisdom cards and guidebook.

Here's a Sampling of Card Titles in the Deck:

Explore Beyond the Physical World
Christ Consciousness Energy
Spin your Web of Desires
Dial Down the Technology
Setting Boundaries
Divine Feminine
Stay on your Path
Shedding Light on your Shadows
Ignite your Fire Warrior
Time to Clean House
Forgive Yourself
PRODUCT DETAILS
Cards: 56 total, 3.5" x 5", full-color on heavy card stock. The back image has an abstract background and 8-pointed star mandala of light. Each front card has the card title, Light Language symbol, and affirmations. All is a direct result of drawing as guided by my spiritual and cosmic collective teams.
Guidebook: 110 pages, 3.5" x 5" printed in color on glossy stock with a colorful cover in heavier paper. Each card has 1-2 pages of light messages that were channel-written (some from Jesus, Mother Mary, and beyond this solar system) to help you move forward with your life and get past the hurdles of your past.
Packaging: Both card deck and guidebook are wrapped together and inserted into a sheer pouch with celestial designs on it. No extra boxes or figuring out where to put it once you've opened it. The pouch provides a simple and compact way of storing your goodies.

PLEASE NOTE: It is important for you to know that the Starlight Wisdom cards and light messages are a gift from beyond the physical and material world. I did not create their content; I was merely a lightworker bringing down the symbols and pictures and then channel-writing the light messages that go with each mark. This is a very common practice for me. When doing so, I connect to my soul and then I connect and bring in the energies of my spiritual and cosmic collective teams (usually through a meditative state of beingness). Sometimes I see a rough outline of what I am to draw and at other times, it simply flows from my hand. To receive the messages, I ask my spiritual and cosmic collective teams, "What messages from the light want to be included in the guidebook?" and then I channel-write the responses. It is a very automatic, flowing, and wonderful process for me. I am so grateful, honored, and appreciative to be able to bring this gift to humankind!

COST
$ 47.00 USD for each package. Shipping and sales tax will be extra.



*** New Arrival!! They're Here!! ***

Click here to go to the Shop page to order your Starlight Wisdom card deck and guidebook.




Where Can You Purchase/View My Art & Energy Tools?
Besides holding art classes and facilitating color and paint playshops, I also "luv-luv" creating intuitive energy tools using a variety of materials. The energy tools that I create come from the visuals that I see during my meditations (read more). I also receive channeled messages about the energy tools I am creating and I incorporate those messages into the pieces to add depth and meaning.

Here is a list of where you can see some of my latest energy pieces (prints, canvases, and note cards). More venues to come. Stay tuned!

Lowcountry Whimsy, LLC (Mt Pleasant, SC)
Available: Selene Framed and Paper Prints
1405 Ben Sawyer Blvd, Unit 105, Mt Pleasant, SC 29464 | 843-388-7338
Lowcountry Whimsy is a soul-inspiring gift shop and studio featuring my "Selene, Greek Goddess of the Full Moon" paper prints and also in metallic silver frames. Lowcountry Whimsy is a light-filled, joyful space featuring creative treasures, spiritual gifts, and other magical items of whimsy. Sylvia and team are very happy to serve you seven days a week.
Lowcountry Whimsy on Facebook | Website

Arete (Charleston, SC)
Available: Framed Prints | Canvases
115 President Street (Suite 3, upstairs), Charleston, SC 29403 | 843-790-3202
Arete is the Greek word for 'perfection.' The implication is that you reach perfection through the fulfillment of your soul's purpose. Jason Newhauser and Aimee White are both spiritual and energy guides, and alchemists. Aimee also uses her psychic abilities to connect with angels, ancestors, and past loved ones who wish to help you find your soul's purpose in this lifetime. Offering individual and group services as well as opportunities to work with Jason and Aimee (together or separately). Be an active participant in creating your own happiness.
Arete Website

Sweet 185 Sugaring Studio and Organic Boutique (Charleston, SC)
Available: Framed Prints | Canvases | Note Cards
115 President Street, Charleston, SC 29403 | 843-329-3500
Sweet 185 has almost every piece of Chakra, Selene, and Heart Strong Energy pieces hanging in various styles (paper prints and framed canvases) inside their massage rooms, stairway, and retail spaces. There is also a very sweet display of all art printed on note cards available for you to take home. At Sweet 185, you will find delicious specialties such as body sugaring, organic facials, holistic massages, oxygen therapy, nail services, and much more. By appointment only.
Sweet 185 on Facebook | Website