Playshops & Intuitive Art Classes
The next one, "PAINT YOUR ____" is going to be scheduled soon.
INTUITIVE ART CLASS (Playshop)
Date:
Time:
Location:
Purchase your tickets here (Maximum is 9)
Fun Fee: $____ per person

If you get stuck, no worries, help will soon be on the way :=) No painting experience is necessary, just a desire to have some playful fun. And there is no wrong way to paint – use your fingers, a feather, a brush... whatever makes you happy. Your painting will be a unique expression of you and your soul. Everything is done step-by-step (background, outline, details).

Come ready to try something new and different. Have fun, let loose and tap into your heart and soul. Make some new friends. Feel the freedom to express yourself creatively. Trust the process as you learn to trust yourself.

All materials and supplies are provided, including a 16" x 20" canvas. This playshop (paint party) lasts for approximately 90 minutes.

NOTE: Class size is limited (9 maximum) so everyone can receive individualized attention to paint their butterflies.


INTUITIVE ART CLASSES: Schedule some Soulful "ME" Time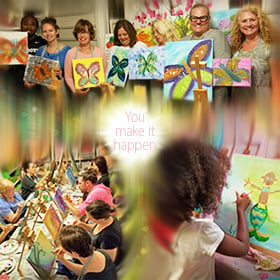 All of the themed intuitive art classes offer you an opportunity to release anything that you do not want inside of you and to fill those holes with positive, uplifting, and happy feelings and energy so you can see your life as more exciting, fulfilling, and rewarding. You will paint what you envision onto a canvas, board, or art print. Everything is done step-by-step (background, body, details). And there is no wrong way to paint – use your fingers, a brush, a feather... whatever makes you happy. If you get stuck, no worries, help will soon be on the way. Ellie will help and guide you through any rough spots where you are feeling stuck :=) NO ART OR PAINTING EXPERIENCE IS NECESSARY, just a desire to have some playful fun with paint! Your art will be a unique expression of you, of your Soul, so it will look different from everyone else's – because your Soul is different from everyone else's. Express yourself creatively with paint.

The Intuitive Art Classes are held in the Charleston, Moncks Corner and Columbia, SC areas. The Intuitive Art Classes are usually held indoors, in a group setting, with a pre-selected theme (see the list, below). If the classes offered do not work with your schedule – or there is a possibility of having an event outside of a normal class theme, then perhaps a Private Paint Party is the ideal solution.


PRIVATE PAINTING PARTIES ARE A HIT!
Sometimes a group of willing participants (AKA 'Picassos in the rough') desire to have their own get together. This idea works well for a group of gal pal nights out/meetups, friends, family members, neighbors, wedding party participants, church groups, coworkers – you name it – who want to get together and have some creative fun. As long as you have 4 pre-paid attendees at the time of booking the event and the event is held in the Charleston or Columbia, SC area, then go ahead and schedule a private paint party for you and your closest peeps.

When you schedule a Private Painting Party, you choose when and where to have the event, as well as the theme (see below or create a new one), your guestlist, and anything else you desire. Once the event is booked, Ellie will coordinate everything with you – down to bringing any special supplies for your event. Private Painting Parties usually last 90 minutes to 2 hours with some time before and after for set-up and clean-up. Open to kids and adults ages 5 to infinity. Fun fees range from $25-35 per attendee, depending on the size of the group. The number of attendees is limited to 9 playful souls; this is so everyone in your painting party can receive individualized attention should they desire some guidance. Special discounts for military and seniors.

Intuitive Art Class and Painting Party Themes
Here's a list of popular themes for both the Intuitive Art Classes and Private Painting Parties:
Paint your Angel
Paint your Butterfly
Paint your Dragon
Paint your Dragonfly
Paint your Fairy
Paint your Inner Goddess
Paint your Mermaid
Paint your Soul Tree
Paint yourself Happy!
Paint your _???_: If you have an idea for another theme, please share it by contacting Ellie. Thanks!
Who's Up for Some Playful Fun??!?
OUTDOOR PLAYSHOPS: Smack, Splatter, and Stomp Out your Worries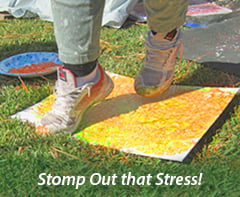 Close your eyes and just imagine yourself outdoors with your "peeps" – family members, friends, neighbors, or perhaps colleagues. You are armed with some sponge balls drenched in brightly-colored paint. You're planning your strategy: who's going to get splattered first? Your friend? Your brother? ……Ugg!! What was that?? Uh oh, it looks like your friend beat you to it. You just got smacked with some paint on your legs from a foam noodle. Now it's your turn. Let loose. Aim and fire! POW-POW-POW!!! Mission accomplished as the last paint ball falls from your target. Who's next??

Attending a SMACK – SPLATTER – STOMP Playshop is a way for you to release much of the things that you feel are weighing you down and preventing you from being happy, free, and excited about your life. Ellie has held several of these Playshops and at first everyone is unsure because they don't know what to expect. Once that first painted hand comes down and smacks a board or two people engage in a paint war using foam noodles and sponges dripping with paint, everyone starts to get into it. The next thing you know, an hour has passed and you are feeling better than you have in a long time.

The premise is that as imperfect humans, we are all working our way through our lives the best we can. Occasionally there are times when we hold onto some ill-feelings or negative emotions (fear, guilt, anger, regret, worry, stress, and more) without dealing with them. Instead we tuck them into a closet or another space and try to forget about them (pretend they are not there) until another situation comes around and we repeat the task of forgetting about those additional negative emotions until it blows up in our faces. So instead of sweeping them under the rug or tossing them into the closet, why not toss a paint-soaked sponge at the person who is making you upset?

This is where the SMACK – SPLATTER – STOMP Playshops come into view. Without placing much focus on getting rid of the negative emotions and ill-feelings people may be harboring, everyone is encouraged to go out, dip some materials into paint and go make some art on other willing participants. Prefer to stay solo? That's not a problem if you want to create your own canvas board with a foam noodle or stomp out some stress caused by a coworker. Whatever you feel is best to help you get to a better place. No fear. No judgment. Just playful fun with paint.

PLAYSHOP DETAILS
Here are some answers to a few of your questions:

All Playshops are held at various outdoor locations (parks, business centers, and private residences) in the tri-county Charleston, Moncks Corner and Columbia, SC areas
Playshops are offered to kids and adults ages 5 to infinity
Each Playshop averages approximately 90 minutes from start to finish for the participant
Playshops are not held in extreme weather conditions where harm could be caused to any participant
Ellie will be in touch with the main contact person every step of the way with emails about what to expect, what to wear, anything to bring, etc.
Fun Fee: $20-35 per attendee, which includes most supplies and materials (each participant will be responsible for wearing clothing and footwear to get paint on, a fresh change of clothes for the ride home (if desired), and a few other items)
Minimum of 4 pre-paid participants required to book an event
Maximum of 12 participants per event (this is so Ellie can hold space and ensure all materials are fully stocked)
Interested in booking an event? Great! Please go to the CONTACT page to send your booking request.


ART LESSONS: Learn a New Creative Form of Expression
Ellie absolutely loves showing people how cool and fun playing with paints can be. Some people have never painted before. Others have even if it was a very looooong time ago. Anyone (yes, even you!) can paint because creative expression (in whatever form it takes) always allows your heart and Soul to shine. Ellie offers many kinds of classes: eclectic style and techniques, experimental creativity in well-known media, and not-so-well-known media (such as frottage).

Creativity Fee: Starting at $88 per hour and varies depending on location, number of participants, medium, etc. Contact Ellie for a personalized estimate.